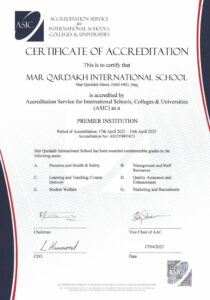 After an evaluation earlier in the semester, Mar Qardakh International School is proud to announce our accreditation through the Accreditation Service for International Schools, Colleges and Universities (ASIC). We achieved premier institution designation—the highest level of accreditation status—and received accolades for faculty expertise, leadership, student-support, and academic quality among other recognitions.
تعلنُ مدرسةُ مار قرداغ بفخرٍ أنّهُ بعدَ التّقييمِ الذي حصلَ مؤخّراً لنيل شهادة الاعتماد الدولي، تمَّ اعتمادُها أكاديميّاً من خلالِ مؤسسة الاعتمادِ الدوليّةِ للمدارسِ والكلّياتِ والجامعاتِ الدوليّة (ASIC).
لقد حقّقت مدرستنا أعلى مستوى من الاعتماد وحصلنا على الثناء منهم بخصوص خبرة أعضاءِ هيئةِ التدريس، والقيادة، ودعم الطلاب، والجودة الأكاديميّة التي لدينا.
نيل الاعتماد الدولي من مؤسسة ASIC تعني ان شهادات طلابنا لصفوف التاسع المتوسط والي الثاني عشر اعدادي سوف تكون معترفة لدى الدول التي تتعامل معها